List Building Part II- What is a Squeeze Page?
In the previous article, you created your first list. You may have even created an email sequence for your subscribers. It's now time to create a squeeze page to put on your website.
So what's a squeeze page? In short, it's just a tool you'll use to get prospective buyers to give you their email addresses. To be more specific, it's a specific type of opt-in page.
There are several things that characterize a good squeeze page. Yours should contain these items:
1. It should give visitors no other option than to either a) subscribe to your list; or b) exit the site. This will prevent them from wandering about your site aimlessly—and then leaving eventually.
2. It should be very, very brief. If your squeeze contains more than 2 short paragraphs of text, you should seriously consider reducing it further.
3. It should explicitly and truthfully state what visitors can expect from your list.
4. It should carefully and visibly state that you do not like spam and will never spam your list members or sell their email addresses to a third party.
5. It must clearly communicate that a membership to your list is completely free and will offer great rewards in the form of high quality content and timely announcements of important events.
6. It must include an opt-in form that visitors can see without excessive scrolling. This means that visitors will know that they have the option to opt-in, even without going through all of the text.
7. It should include your signature and possibly a thumbnail photo of you.
8. It must be visually appealing.
And there you have it: eight simple rules to follow whenever you create a squeeze page. However, as you will find out, these items aren't necessarily a recipe for success. Rather, they're simply the minimum conditions you must satisfy if you want to have a viable squeeze page that has the potential to capture leads.
Make Your Squeeze Page Convert
Now that you've satisfied the basic requirements for success, it is time to hone in you the specifics. To do this, we will simply look at some examples and identify what makes them good.
Example #1: Not surprisingly, one of the top paid results returned for ―Internet marketing‖ is the successful site, PrWeb.com: PrWeb . Simply knowing that this is a top paid result means that the advertiser is paying a lot for the slot; and has also probably spending a lot of time and money to test the format they use.
As you can see from the squeeze page, it sparingly uses text—and when it does, it uses bullet points to convey specific benefits. Additionally, it is attractive and provides an opt-in form in a place that is immediately visible. Combined, all of these items make for a successful squeeze page.
Example #2: Another good example of a high-quality squeeze page can be found here: Budget Landing Page It's not surprising that this is a good squeeze page, since that is what the company does to generate revenue. Nonetheless, it is a useful example of a good squeeze page.
Again, notice how it has an attractive background, displays the opt-in box in a place that is immediately visible to visitors, and is very text-light. These are all important features to include in your own squeeze page.
Example #3:  When you use text, highlight words that stimulate, you can see in this example Biggest Facebook Marketing Mistakes: a Warning and bullet benefits.  Here is a simple format: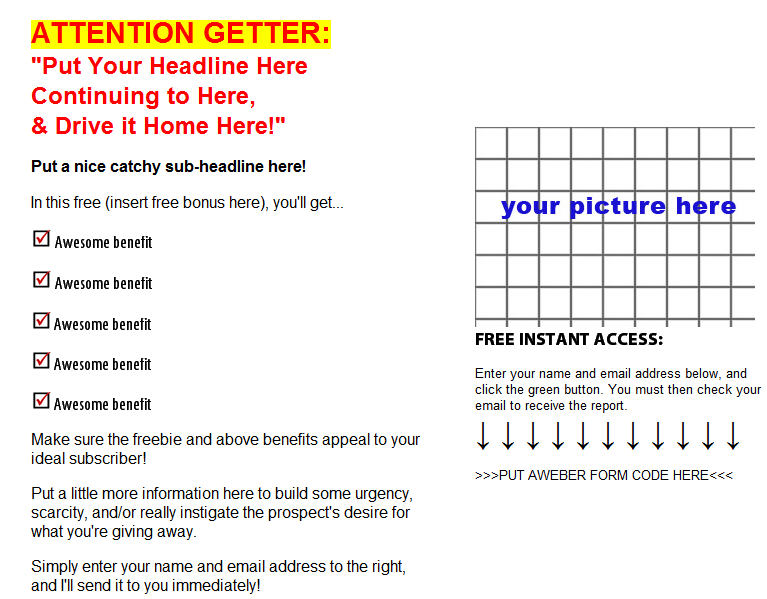 Example #4:  Give them more than one chance to subscribe in this example you can see a center placement at the top and a second call to action centered at the bottom: The Z Factor.
As a final consideration insert audio or video. It should contain all of the critical elements we mentioned. In addition, it also includes playable audio or video—a component that could make your site unique and induce visitors to spend a little more time considering your offer.  Moreover, it can add impact to squeeze page and sometimes increases conversions. Note:  For maximum attention-getting impact, it must be set to auto-play.
Final Note on Squeeze Pages
Squeeze pages are an important part of list building. They are the filter through which all of your subscribers must pass. If your squeeze page is improperly designed, you will weed out far too many prospects, making it hard to build your list and profit.
The most important thing to remember about squeeze pages is the following: keep it short, clear, and direct. The purpose of the page is to get the visitor to subscribe—and nothing else. So don't confuse him with unrelated offers or links to various products and content pages. Just get him to relinquish his email address. If you can do that, you've accomplished your goal.
Enhance Your Squeeze Page – Give Stuff Away for Free
One common element in all successful squeeze pages is that they offer considerable value upfront. They don't make hollow promises and hope that visitors will fall for it and sign up. Rather, they offer very specific items in exchange for the visitor's email address.
If you want to have a successful email list, you will do this, too. So what options do you have?
Create a Report and Give it away for Free
One of the most commonly used strategies for getting people to subscribe is simply offering them a free report. Generally, these reports are somewhere between 10 and 20 pages long and provide useful information about some facet of the niche in question.
For instance, let's say your niche is golf. You might create a guide that tells visitors how to shave 10 strokes off of their game using a specific training regimen. This is something that visitors will find enticing. And once you make it clear that the guide is free and that they can opt out if they're not satisfied, you'll have many people who are willing to subscribe.
Take this concept and apply it to your own niche. It doesn't matter what you sell; creating a guide and giving it away for free is virtually always a great way to build a large list.
To make things easier, you don't even need to create the guide yourself. If you're not an expert in your own niche, that's fine (maybe you're just good at marketing or administrative tasks). You can always hire someone else to research and write your short guide.
Using a site like Elance.com or Guru.com, you can hire someone to create a professional-quality PDF guide. For low-cost copy try Fiverr.com, or better yet check out Cash5er for a detailed business plan using Fiverr. If you're not sure what the topic should be, you can even ask them to come up with the topic for you.
In a nutshell, using a free report, you can easily add value to your offer. This will help to reduce people's resistance to your offer; and once they read and appreciate the quality of your report, it will also make them more likely to listen to your follow-up emails.
Other Things You Can Give Away
While the free report is still one of the most frequently used strategies in list building, you have plenty of other options, too; and some of them have the potential to be more persuasive than a simple report.
Create and Give Away Video Content
One great thing to give away is video content. In comparison to a free report, it has a much higher perceived value. And in recent years, it has become increasingly cheaper to create.
If you're new to creating video content, I suggest that you check out http://camstudio.org/ to create some test videos. This is a free tool that will allow you to capture your computer screen and some audio.
If you decide to go this route—and to create video content—I would suggest that you do it by creating a series of tutorials in your particular niche. For instance, if you're in Internet marketing and your list will instruct people on how to use AdWords, you might put together the following video series:
Video #1: A Quick Trick that Will Make Your AdWords Campaigns 50% More Profitable
Video #2: Increase Your Conversion Rate by Making this Tiny Change in Your Ad Copy
Video #3: How to Get Rid of Freebie Seekers and Draw in Profitable Customers by Changing Your Ad Copy
In the videos, you could open up your own AdWords account and demonstrate how the viewer could make all of the changes you suggest.  Again, this video tutorial series would have a very high perceived value—much higher than if you simply wrote a report saying (but not showing) them what to do.
If you decide to go this route and find out that video content works well for your particular target audience, you may eventually want to upgrade to some software that I personally find effective, Camtasia Studio, which you can find here: http://www.techsmith.com/camtasia.asp.
Give Away Free Software
If you think your customers will perceive video content as having a high value, just imagine what they'll think if you provide them with free software in exchange for joining your list.
In fact, creating software and giving it away for free to your customers is one of the best ways to lower their resistance to your marketing pitches.  And, for this reason, if you're willing to do it, it holds the potential of generating very high conversion rates.
So how can you go about creating a software program? Fortunately, you don't need to know any programming languages. You can pay other people to do it for you.
The sites I mentioned earlier—Elance.com and Guru.com—also allow you to post software programming projects; however, this will be more complicated than posting a simple report-writing project.
When posting a software-creation project, there are a number of very important things to keep in mind:
Be very clear about things the program must be able to do. If the goal of the program isn't clear, you can easily end up with a piece of software that doesn't do anything useful for your visitors—or at least does something other than what you had intended.
When you're not sure what you want, also make that clear. If you don't have any reason to impose restrictions on a certain part of the program, you will probably want to give your coder the freedom to do things as she sees fit.
So, giving away software can be a highly effective means of converting visitors into subscribers. You might not feel comfortable with the process just yet—but after you complete that first project, you'll understand why it's not as hard as it seems; and yet it has unbounded potential.
Other Strategies
Reports, video, audio, and software are not your only options when it comes to subscription incentives. List builders also offer audio content, eBooks, and a variety of other products. All of these present viable opportunities for offering potential subscribers significant value at minimal expense to you.
Summary – Give Stuff Away
In short, when you create a squeeze page or opt-in page, it is always a good idea to give stuff away for free. This will reduce visitors' resistance to opting-in; and it will also make you appear more credible to people who otherwise know very little about you.
There are several important things to keep in mind when giving away free stuff:
1. Make it valuable. Anyone can give away garbage products. But your goal should be to not only provide an enticing offer, but to actually deliver on that offer. By doing this, you will not only get people to opt-in, but you will also get them to trust you and to be willing to spend money in the future.
2. Be creative. Consider creating a report, creating an eBook, creating a video series, or creating a piece of software. The opportunities for providing unique value are boundless. Take advantage of them, rather than providing boring, re-hashed content.
3. Communicate clearly that the content is free and will be available as soon as they subscribe to your list.
To sum up, you have a basic template for inducing visitors to subscribe to your list by offering inexpensive freebies that have very high perceived values.  More on Opt-in pages….
Stay Tuned…
Precisely.
Jerry Duling is a Marketing and Business Consultant, Professional Speaker, and Social Media advisor. Jerry shows businesses how to use Social Media to build their brand, generate leads and close sales. Jerry also provides individual resources for the Internet Entrepreneur. Connect with Jerry on Google+.
dharmasimulation reblogged this from rickyzurvassocialmedia